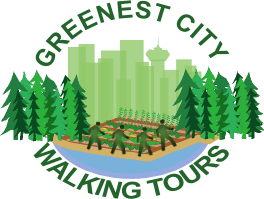 The Greenest City Walking Tours offers Grassroots to Resiliency tours, private group tours, and family friendly neighbourhood tours.
While the tour season is late spring to early fall, over the winter season there are many times available for private tours. Please contact Kathy for details.
-----------------------------------------
UPDATE APRIL 2022 - This will be another year of private tours beginning in June. Tours will be for 2-8 people. Please email greenestcitywalks@gmail.com to schedule a tour for you and your friends or family this summer. I look forward to wandering green paths around town with you soon! : : )

Featured tour:
The Grassroots of Resiliency
This 4 hour tour showcases a broad range of green initiatives, weaves together elements of Vancouver's goals as a green city, and highlights the people power it takes to get all this good stuff done!
On this tour you will:
see community gardens and urban farming, plenty of green architecture and urban planning,
alternative energy solutions, many beautiful views and inspiring projects come to life
travel through a handful of neighbourhoods, a couple of light industrial and commercial districts you may be missing on the tourist path, or your local daily route
learn from stories of the people behind all the positive change going on in Vancouver
"The Greenest City Walking Tour is an informative and healthy way to learn about Vancouver's green initiatives. Kathy brings energy, knowledge and fun to the 4 hour walking tour. This is a recommended activity for those who love walking in our beautiful city and gardens!" Robert Lee, Photographer

Time to sign up and get walking! : )
Helpful notes:
In order to ensure a quality experience for everyone, we limit tour participants to 10 people. Please register for the tour in advance to reserve your spot. If you prefer to pay cash at the start of the tour, please email greenestcitywalks@gmail.com to reserve your space for your preferred date.
There are a few sections of the walk that are uphill,though most of this walk is easy terrain. We will maintain a moderate pace between stops, and you will have breaks along the way.
Tours are rain or shine so please prepare for your comfort either way. Be sure to bring water and snacks to keep you hydrated and energized!
Please read the fine print before registering. :)
COMMUNITY ROOTS TOURS
Come explore your neighbourhood, or one less familiar to you, see how many green initiatives are connected around you, and hear about some people involved in making your world a little greener.
These 2 hour tours are a family friendly way to spend an afternoon!
* False Creek & the Flats * Mt. Pleasant *Grandview Woodlands *Strathcona
Time to sign up and get walking! : )

Private Tours
For 2021 season all tours are private tours for groups of 2-4 people and youmay schedule tours at various times in the week, depending on availability.
Private tours can also be tailored to meet your groups special interest. Great for groups of friends, school groups and more!
Please contact Kathy for group rates and private bookings.